Crackuccino
What the heck do they put in the drinks at Starbucks? I'm beginning to wonder if there's some underhanded, illegal activities going on there. I'm not a dope head and have no idea what it's like to be addicted to crack – but if it's anything like the addiction I have to the toffee nut latte, iced caramel machiato and the caramel frappuccino then those crack heads have a serious problem! And I know that it's not just me this epidemic is affecting because J is hooked on those damn non-coffee frappuccinos! The vanilla bean frappuccino to be precise. The kid starts salivating every time we pass a Starbucks coffee house or when she gets a glimpse of one of their billboards. She's like Homer Simpson, "mmmmmm, starbucks!" She turns into a zombie. Nothing can snap her out of it! She yearns for the sweet vanilla cream…she craves the fluffy whipped cream doused in… CRACK! When I tell her we'll stop there on Friday, she counts down the days! "3 more days till starbucks!" This is not normal, I tell ya! I've even found myself hoarding dollars for the stuff (instead of using my debit card) so that hubber won't know how often I go! But now, I think he's on to me. I'm a crackuccino addict.
J - going looney - maybe all those crackuccinos finally caught up with her!

Boardwalk Beast
Last weekend we went to the
Saltgrass Steakhouse
at the
Kemah Boardwalk
to celebrate my sister's birthday. Her birthday isn't really until July 23rd, but we'll be living it up in Disney World that day, so we figured we'd hook up before hand. Sis had the brilliant idea that riding
this thing
would be fun. According to her, you get a little wet – like walking through the rain for a few minutes. Apparently, my cute little sister is a lying sack of crap! We got DRENCHED. It was like someone was standing over us, pounding us with 50 kajillion gallon buckets of stinky salt water. And it didn't trickle cutely over us. It GUSHED. It was a good thing I didn't wear a white t-shirt! We walked off of that boat as if they'd just rescued us from the middle of the ocean and didn't have the common decency to offer us a towel. And, as if that weren't FUN enough…we got caught in the STORM OF THE CENTURY. The sky opened up, and in 10 minutes, that place was covered in 5 inches of water! And it wouldn't stop – until, of course, we finally reached our car. By that time, it was bright and sunny with not a cloud in the goddamned sky. J thought it was the "funnest day EVER!" She wants to do it all again next month when we stay
here
for our anniversary.
This was before we got DRENCHED!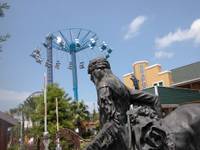 The ride we never got to ride!