TMI Thursday: Pubes, blood and poop, oh my!

Hello, reader! And I mean that quite literally, as I'm afraid I only have one reader. Besides myself, of course. I'm not THAT pathetic. Geez.

Anyway, I'm going to try something different for this post by following the instructions of one of my favorite bloggers. On Thursdays, she asks people to share a story that others might consider to be TMI (too much information).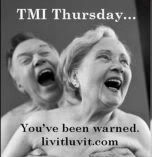 So, here we go.

Someone using the ladies room at my place of employment love, Love, LOVES to deposit DNA samples on the toilet seats for others to admire. And, I ain't just talking blood here, people – although the culprit has left globs of red, gooey chunks on the seats, too – I'm talking HAIRS. Not head hairs. Gnarly, pube hairs. Long ones. Which makes me wonder, first of all, why the hell are these hairs so long? And secondly, how do they just FALL out onto the seat? I don't get it. Does this person rub on their doodah as their standing to button their pants? I have also found shit streaks on the toilet seats. SHIT STREAKS. Like right where an ass crack would be. So, either someone pooped standing up and missed the hole, or they didn't wipe properly and their shitty ass rubbed up against the seat as they were standing. Who the hell does these things?! One day I walked around the office sniffing everyone to see if any of them smelled like shit. Also, before I sit in ANY office chair, I check for stray pubes. No sense taking chances.
Hmmm. Maybe this guy is roaming our building...but it doesn't explain the pube hair...unless he hocked up a hairball....a pube hairball. Where has his mouth been?!